Fri 15 Apr 2016
The busy time of spring is upon us… lots of bed prep and planting so no time to "spell check" the following, but here's our handout (aka "cheat sheet") for Saturday's workshop 11AM at the Helfand Farm Community Gardens (Chase Road in Dartmouth).
BB Accelerating Spring Growth in the Garden (and Building Complete Proteins) – April 2016
Using a high tunnel or fieldhouse is a guaranteed way to accelerate spring growth.  Exhibit A:  Our Fieldhouse tomatoes 2 weeks after transplanting (they were set out April 1st) are looking great!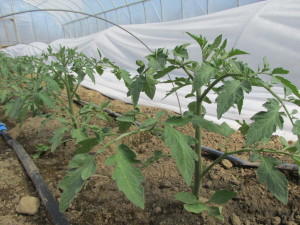 No Responses to " April 16, 2016 Workshop – Accelerating Spring Growth & Building Complete Proteins (Nitrogen, Phosphorous and Sulfur) "